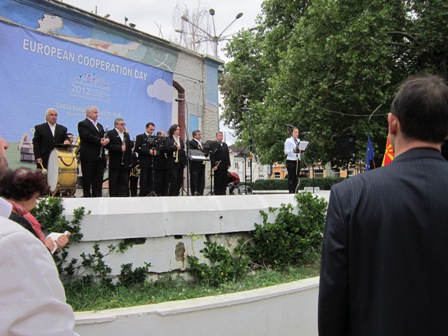 European Cooperation Day was celebrated across Europe and in neighbouring countries for the first time ever on 21 September 2012. With 75 European Territorial Cooperation programmes on board, more that 100 local events was organized all over Europe during this week (17 - 23 September). The aim of the campaign which was coordinated by the INTERACT Programme in association with the European Commission and supported by the Committee of the Regions and the European parliament, was to celebrate the achievements of cooperation between European regions and countries.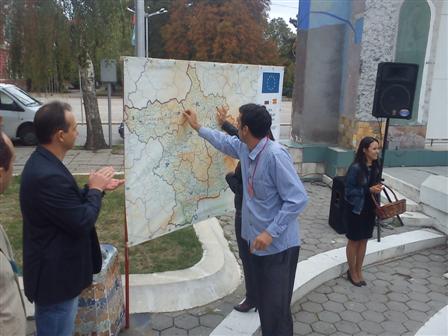 The Joint Technical Secretariat, in cooperation with Directorate General "Territorial Cooperation Management", Ministry of Regional Development and Public Works of the Republic оf Bulgaria (Managing Authority) and the Ministry of Local Self Government of (National Partner Authority), has organized a bilateral event - Cross border projects fair.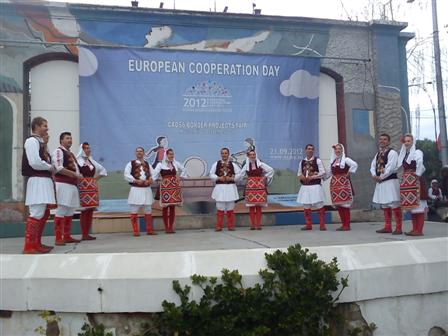 The fair was organized on 21st of September 2012 on Velbuzd square in Kyustendil, Bulgaria. 33 successful projects from the 1st call have oportunity to present their projects in front of the programme implementation structures and general public. In the same time theyshare their project results and project promotional materials as well as their experience in cross border cooperation programme. Performers and artists Macedonia and Bulgaria has present music, songs and dances from both countries.
Ofifcial guest of the manifestation were HE Mr. Blagoj Hadziski ambassador of Republic of Macedonia in Bulgaria and HE Mr. Ivan Petkov ambassador of Republic of Bulgaria in Macedonia.
The event was open by. Mrs. Maria Duzova director general of DG "Territorial Cooperation Management in MRDPW of Republic of Bulgaria and Mrs. Myalma Mehmeti Petersen, state councilour for Eruropean integration in Ministry of Local self government of Republic of Macedonia